2022 Question and Answer With Haunted Hunt Club Farm
Home » Blog » Virginia Haunts: An In Depth Look
September 12, 2022 By Haunt News & Press Releases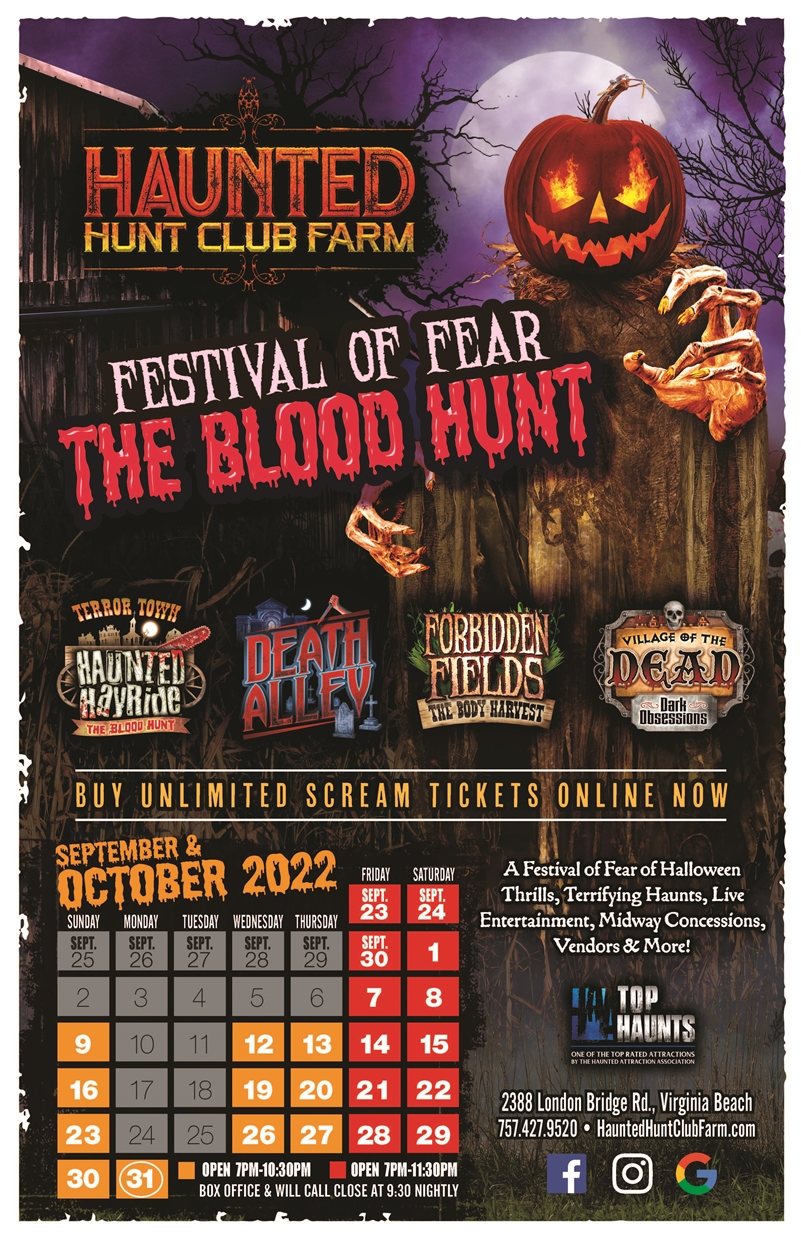 Haunted Hunt Club Farm 2022
VirginiaHauntedHouses.com recently sat down with Karen Beardslee Kwasny of Haunted Hunt Club Farm, to discuss what's new at Haunted Hunt Club Farm for the 2022 Halloween Season!
What's new at Haunted Hunt Club Farm for 2022? Do you have any new rides, attractions, or special features that Haunt Seekers should know about?
We have all new featured events this year, including our ever-popular Haunted Hayride "The Blood Hunt," Forbidden Fields, "The Body Harvest," The Village of the Dead, "Dark Obsessions," and Death Alley.
What are you most excited about for the 2022 Halloween Season?
The new featured events have all of us excited to terrify and taunt with thrills, and chills are returning and new haunt seekers!
What differentiates Haunted Hunt Club Farm from other local haunts in Virginia?
We are a one-of-a-kind farm haunt event. Many places have just one event to offer on their farms or venues. We have four events, food, beverages, and other special events like a costume contest and a Fear Factor contest throughout the season.
How long has Haunted Hunt Club Farm been in business? Can you tell us a bit more about Haunted Hunt Club Farm's history?
Here's a great place to discover more about Hunt Club Farm's history:
https://huntclubfarm.com/hunt-club-farm-history/
What's your favorite experience since opening Haunted Hunt Club Farm?
When I attended as a guest myself with our youngest son, the Haunted Hayride was our favorite part. It was terrifying, and the actors were terrific. They truly loved what they were doing, and you would never know they played a role.
How long is a typical haunt experience at Haunted Hunt Club Farm from start to finish?
Approximately 15 minutes depending upon how fast guests move through the feature.
On a scale from 1 to 10, how scary would you say Haunted Hunt Club Farm is? Why?
7-10.
Does Haunted Hunt Club Farm's property have any real haunted history? Do you have a spooky encounter you'd like to share?
Some say one of the houses on the farmland is haunted and was part of the Underground Railroad.
What inspired you to open up a haunted attraction? What's your favorite part of the business?
We first enjoyed giving kids hayrides around the farm. Then we moved to haunted hayrides during our Halloween season. Although this is a busy time of year for those of us working on the farm or for the farm, it's still our favorite time because we all LOVE Halloween!
How has new technology (i.e. animatronics, special props, etc) helped you to enhance Haunted Hunt Club Farm?
New technology certainly helps us with lighting and sound, but much of what we do is a "live" actor experience, so there isn't any technology needed for that!
Can Haunted Hunt Club Farm accommodate large groups? How many people can experience Haunted Hunt Club Farm together as a group?
We love groups of all sizes. Our website has specials for groups and can accommodate groups of 20. Groups of more than 20 should contact our office for more information.
Does Haunted Hunt Club Farm offer any special deals, discounts, or coupons?
We have a military member discount, a costume contest, and other specials running throughout the season. Check our Prices and specials here:
https://hauntedhuntclubfarm.com/dates-prices/
https://hauntedhuntclubfarm.com/contests/
Anything else you'd like to let us know about Haunted Hunt Club Farm?
We want our guests to know how EXCITED we are about this year's NEW events. Our excitement means an amazingly terrifying experience for everyone.